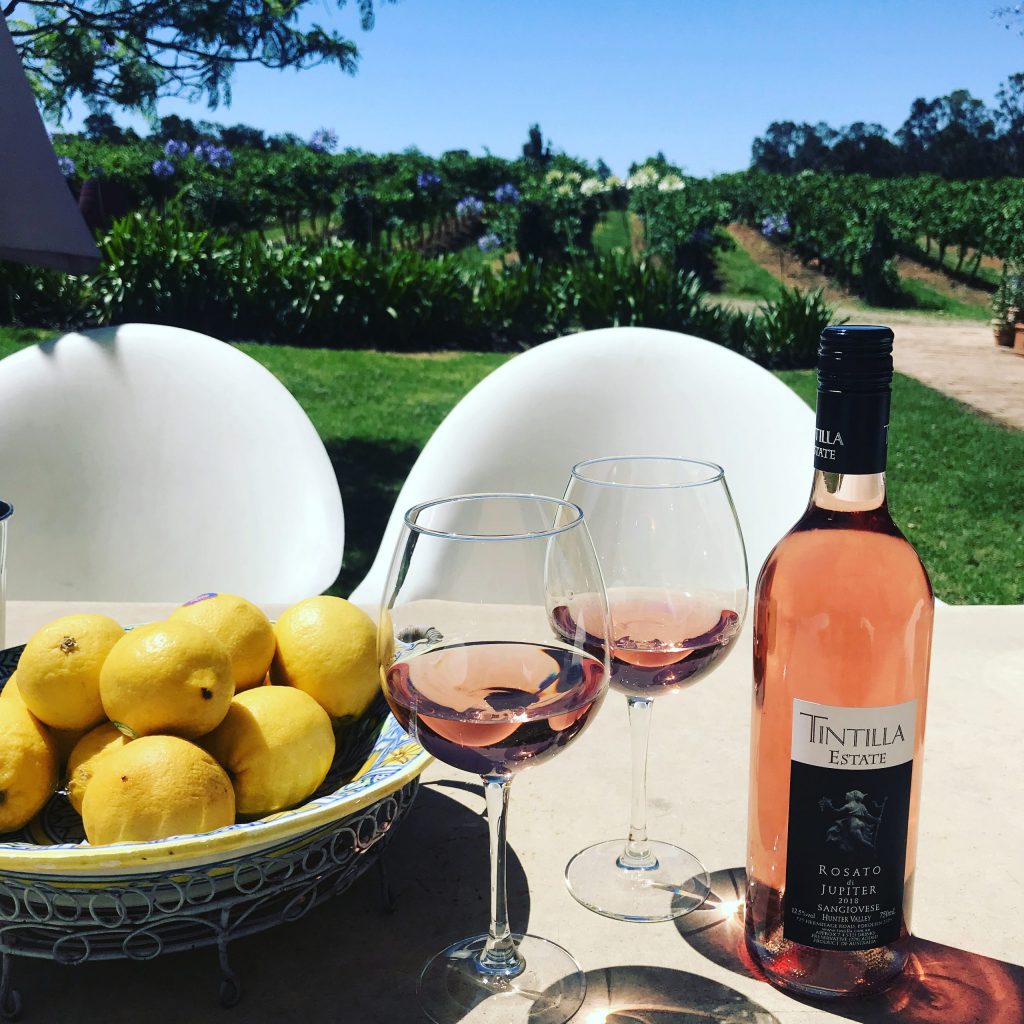 Bob's Blog: Rosé steps forward in time for Christmas!
By any other name would it taste the same? Bob's Blog
Rosé has become THE recreational drink of choice over the last few years, not just in Australia but worldwide, a global phenomenon.
Amazingly there has been a 35% year on year growth in this intriguing little wine which just goes to show how perceptive my wife and daughter are. Data presented by Damien Ferreira Gomes from Google Travel, at the recent Wine Media Conference here in Pokolbin of Google Analysis showing trends in wine consumption, confirmed what we have been seeing at the Cellar Door.
So with summer just upon us its time to look around for your kind of Rosé. After all, as the saying goes 'Oils aren't oils' and there are definitely many variations within the cluster of these lovely wines.
We tend to think of the wines of that sunny south of France, Provence as the home of this wine style.
And of course, it also comes in that very refreshing bubbly style originating in the Champagne district. Indeed before the first world war, many of the wines from Champagne were pink, the fashion changed later to what we now all recognise as Champagne.
Rosé spans the colour spectrum between red and white and can happily be described as pink! The depth of colour depends on the length of time the juice has been in contact with the grape skins, the source of colour and also to a degree flavour. If you look around nearly every red wine variety is used as the base for Rosé, from Cabernet Sauvignon to Shiraz and Chambourcin.
Pictured: A small selection of wines of Provence
However, there are several common styles and grapes that are preferred for Rosé, in Provence the region most famous for this style of wine Granache is the dominant grape.
Those of us who have been to Provence will have noticed how the landscape is similar to much of that found in Australian wine-growing regions.
No wonder this style has taken off here as we also like a dry wine, refreshing enough to be enjoyed on a warm summer day or on arrival home from work and wanting to relax, without thinking too much about what to drink.
It's as though the climate dictates our preference for wine nowadays, having been freed from the restraints northern European tradition.
The flavour of Rosé is obviously determined by the grape variety so there is a lot of variety from berry, melon, rhubarb, citrus, etc. The softness of the wine or alternatively it's crispness and zest are also important.
A good "pick me up" will be cold, crisp and inviting, fine tannins such as with Sangiovese grapes will ensure length without harshness. Grenache skins lack anthocyanins, a major component of red wine flavour, providing a softer finish.
The Maceration Method is commonly used by serious producers where Rosé is as important in the market as red or white wine. It involves a period of time with the juice left in contact with the skins after a gentle crushing. This is where the winemaker makes the call to drain the juice when enough colour has been extracted. Highly pigmented grapes such as Shiraz, Merlot or Cabernet Sauvignon need only a short time in contact with the juice and too long can result in a darker and less pleasant Rosé.
Once removed the juice is fermented like a white wine and the level of dryness is again controlled by the winemaker. In the past sweeter types of rosé were made but the shift to dryness has coincided with the increase in popularity of the wine.
Another technique is to "bleed off" the juice from a fermenting red wine vat early in the fermentation and let this continue without further skin contact. At the same time concentrating the red wine. Known as the Saignée Method (to exsanguinate is to bleed to death!) Commonly used in the Napa valley and selectively in Australian wineries.
Of course there is the old fall back method direct blending of finished red and white wines. Often a winery finds it has excess white wine and by adding a little red wine about 5%, a pink blend can be achieved. Obviously, large scale production also occurs to fill the need for the lower end of the market. Less nuanced but served chilled this wine fills a need.
This Blending method also happens also in sparkling winemaking where Chardonnay has a small amount of red Pinot Noir blended in to produce a Sparkling Blush style. Pink Champagne can be a very serious wine!
Sparkling Rosé styles can also be straight varietals, Pinot Noir, Sangiovese, Grenache or other reds appropriately prepared can be made into sparkling wine.
The Christmas season in Australia is ideally suited for this. Boxing Day on Sydney Harbour nothing better with some fresh prawns and oysters.
There has always been the famous wine of Portugal-Mateus, the subject of many a long night in our youth. Spain also produces some serious pink's; their Rosado's and Clarete's.
When Tintilla started to make a pink wine we based it on the grape variety Sangiovese with its juicy grapes and fine dry tannins and named it Rosato di Jupiter after the god whose blood it represents!
Interestingly back in 2000 we got the Gold medal for it at the Sydney International Wine Show. The judge's comments are passed back to the producers and we scored highly from the international judges but at that time the local judges were yet to appreciate the change in direction Rosé wines were taking. We have also moved to a lighter colour and added a sparkling Blush which has become very popular.
While staying in Provence a few years ago we visited the local wine co-op and tastes some fine wines but also available out the back was some "vin ordinaire". This was a self-service affair where you brought your four-litre container and filled it up at the bowser. Turned out to be drinkable with added fresh fruit and plenty of ice as a Punch.
So Rosé comes in many forms and varieties, however, refinements in recent years, a dryer style crisp and succulent has evolved and is taken on the world.
#aroundhermitage #huntervalley #bobsblog
Author: Robert Lusby AM
#tintillaestate
©Around Hermitage Association